The 5 Best Webcams for Streaming & Gaming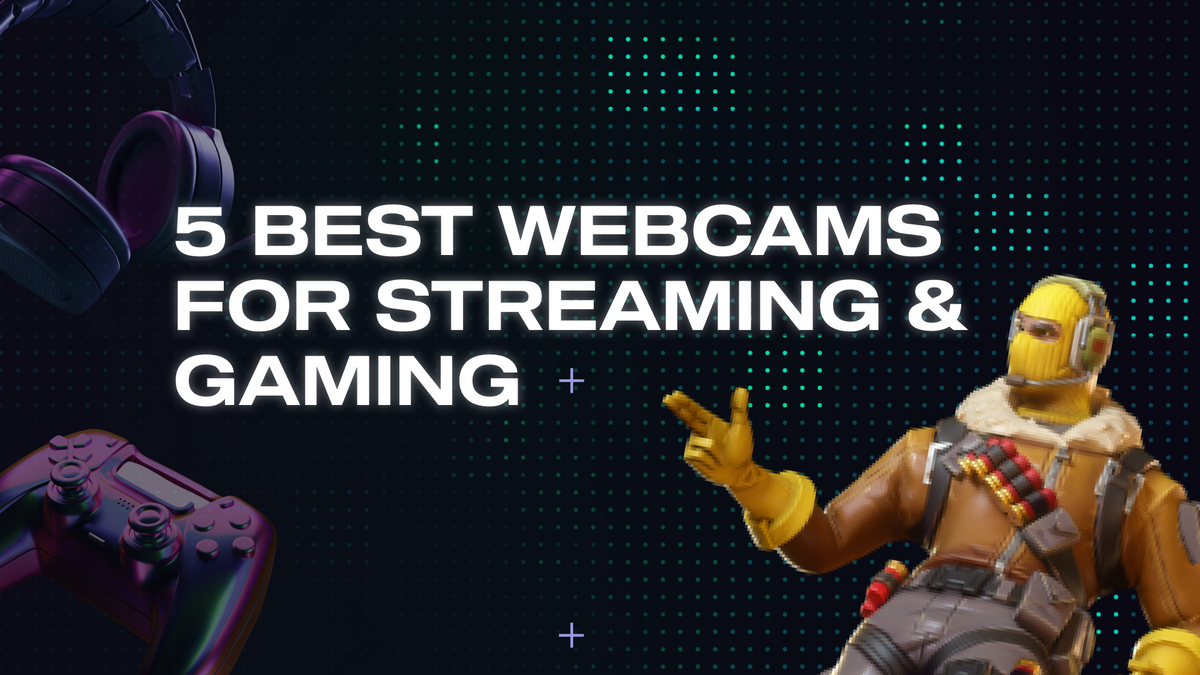 So, you want to be a streamer. To have success as a streamer and professional gamer, you simply have to have a webcam. They're vital tools for engaging your audience and keeping your content interesting, and many streamers use them to connect more with their viewers. It really does help when they can see your face and react along with you.
However, finding the right one can be a bit overwhelming, whether you're just getting into streaming or you've been doing it for years. To help clear the air, we've come up with a quick guide to some of the best webcams for streaming.
Why Do You Need a Webcam?
Before we get into the specific options, let's first talk about why you even need a webcam in the first place. By understanding its purpose, you can make a better decision about which one best fits your needs.
Face-to-Face Connection
Technically, a stream isn't face-to-face — it's more like face-to-screen. One of the biggest reasons you need a facecam is because of the psychological effect that happens when we have face-to-face interactions.
Seeing someone live and in person is incredibly stimulating for the brain. We read their facial cues, watch their mouth move, read their expressions, listen to their voice, and more. The reality is that we pick up on so much more information when we watch someone talk versus when we simply listen to audio.
The average viewer isn't going to be aware of this, but they will subconsciously feel more connected with and entertained by a stream when the streamer's webcam is turned on. It simply isn't as exciting to watch someone play games without getting to look at them while they do it.
Everybody Is Doing It
Oftentimes, jumping on the bandwagon for the sake of it isn't the best course of action. But in this case, it's definitely the right move to follow the crowd.
In the Twitch community, people put a lot of pride in their facecam. They worry a lot about having a high-fidelity image and making sure their stream looks good. This popularity can make it seem a little odd when somebody isn't using one.
Because it has become the norm, you'd be going against the grain in a bad way if you avoid using one. Not using one could even affect your growth as a streamer.
What To Look For in a Cam
Not just any old camera will do when it comes to streaming. You want to make sure you have a quality image so that people can view your stream in whatever image quality they want, whether it's high or low.
The goal is to get 1080p resolution with 60fps (frames per second), which gives you a high-quality image that will work well with Twitch. If you need to make a sacrifice, let the sacrifice be in frame rate. Resolution is the most important for keeping a crisp image.
5 Best Webcams for Streaming
Here's our list of the best webcams on the market right now. No matter what your needs are, there's an option on this list for you.
1. Best Value: Logitech C922x Pro Stream Webcam
The Logitech C922x Pro is an incredibly good camera for the price you pay for it. It retails at $99.99 and gives you every bit of value that it possibly can.
For starters, this camera can get up to 1080p at 30fps or 720p at 60fps, so you've got a few different options for quality video when it comes to Twitch. But that's not all this camera has to offer. It also has autofocus, crystal clear HD glass, two mics to capture your voice in stereo audio, and even automatic light correction for poorly lit rooms.
This camera also comes with background replacement technology, allowing you to superimpose a background or scene behind you with ease. For a hundred bucks, you can't ask for better.
2. Best for 4K: Dell UltraSharp WB7022
If you're trying to shell out some incredibly high-res footage on your streams, look no further than this webcam. The UltraSharp WB7022 can capture incredible 4k footage for you and is well-regarded as one of the best 4k webcams on the market.
This camera has a ton of features on it that set it apart, including HDR support and AI-powered auto-framing. It also has an adjustable field of view up to 90 degrees and fantastic autofocus.
This camera doesn't have a built-in mic, but most streamers have a mic already, anyway, so this is perfect for those established streamers who are trying to up their video quality.
3. Best for Dark Rooms: Razer Kiyo Pro
This webcam is specifically designed to shoot in low-light environments, so if you like to game in the dark, you'll still be able to give your viewers a quality image.
This camera's predecessor, the Raser Kiyo, had an attached ring light, but the light sensors on the Pro are so good that this model doesn't even need one. And, of course, this camera shoots in 1080p and 60fps and has an omnidirectional mic if you want to use it.
4. Best for Creators: Logitech StreamCam
Next on the list, we've got another offering from Logitech. This option was designed for streamers, so it will be a fantastic pick that will suit your needs.
In addition to offering 1080p and 60fps, this camera offers face-tracking features and automatic exposure adjustments to help with low-light performance. On top of that, it can offer a stereo, omnidirectional mic and even allows you to change from landscape to portrait simply by rotating the camera.
5. Best Overall: OBSBOT Tiny 2 4K
This camera has a ton of features that you might want to get your hands on, making it incredibly versatile and functional. It might come with a hefty price tag, but you definitely get what you pay for with this model.
It can shoot 4K, has HDR features, has fantastic image quality in low light, has four different camera tracking modes, autofocus, voice control, and a convenient app that lets you make adjustments on the fly. It has everything you would want in a single camera.
What Else Goes Into a High-Quality Stream?
A good camera isn't the only thing you're going to need if you want to be a high-quality streamer with a crisp and clean image. So, keep reading to really get the most out of your new webcam.
Good Lighting
Lighting is everything in videography. You can have the best camera in the world, but if you have bad lighting, you're still going to get a bad image. You want to make sure your face is lit enough to help make your face clear but not too bright so as to overexpose your face and make you look flushed.
You may need to invest in a ring light or some other form of lighting in order to get the image you're looking for. However, as you'll notice, a lot of these webcams perform well in low-light conditions, so you might be able to get away with minimal lighting. Every setup and room is different, so play around with your setup until you're happy with how it looks.
Quality Background
A good background is another important piece of the puzzle. There are a few different directions you could go with it, depending on your specific needs.
Many streamers fill their walls with paraphernalia from their favorite games and shows. Others opt for a dark background with some cool, colorful neon lights. Others still use a green screen so they can cleanly superimpose their body on top of their gameplay for a clean look.
Camera Angles
Another important part of getting a good image is the camera angle. Oddly enough, streamers don't necessarily need a good camera angle to have a good stream. For example, Jynxzi's low camera angle might not technically be the best, but it's perfect for letting him punt his camera across the room in a rage.
So, pick an angle that either looks great and highlights your good side or helps to establish your iconic streamer brand.
Look Like a Professional Streamer
Your webcam is an incredibly important piece of your streaming setup. It can be the difference between looking like a noob and looking like a pro, so investing in a quality cam is a good move if you're serious about streaming.
For more information about streaming and helpful tools that can assist you in making content for your channels, check out our blog. And when you're ready to create short content featuring your gameplay and your webcam footage in a horizontal or vertical video for social media, Powder AI is here to help.

—
💡If you're a streamer looking to save time and money extracting highlights and creating montages from your latest streams, get access to Powder for PC (Windows) now. Powered by AI 🎮.
💡Learn more about Powder at our website or join our Discord, Twitter, Instagram, TikTok, and LinkedIn communities!