How To Get Viewers & Grow on Twitch: 9 Tips
Are you looking to grow your Twitch following and start cashing in on the views? Read on for nine top tips from Powder.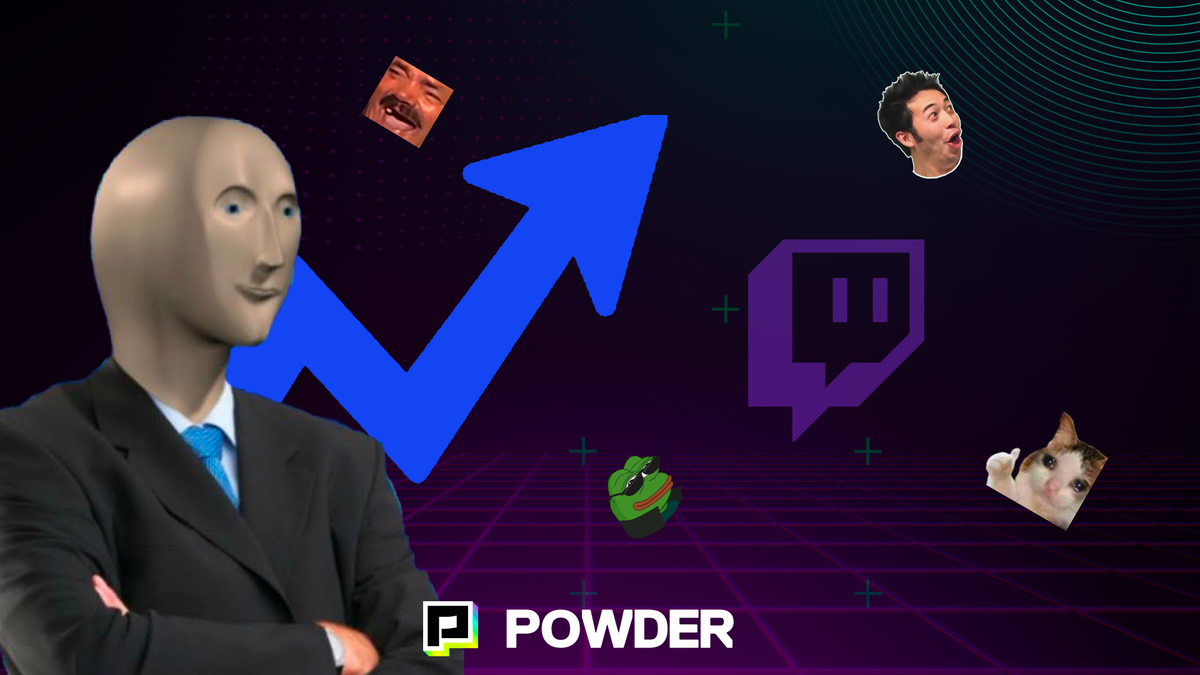 PC gaming is a blast, even if no one is watching. But if you want to build your Twitch following and share your love of PC gaming with the world, you need viewers.
We're here to help you grow your following and become the streamer you've always wanted to be. Read on for nine hot tips on how to get viewers on Twitch and build your brand.
1. Start By Streaming the Right Games
There's nothing wrong with making super niche content — there are plenty of small indie titles that deserve far more attention than they get. However, when you're first getting started in the world of streaming, it's best to start with games that appeal to the masses.
The key is in choosing the right game to stream. There are plenty of popular games out there (like Minecraft and Valorant), but those titles are also inundated with streamers looking to build a name for themselves.
You don't want to compete with thousands of other people to make a name for yourself. In these high-traffic games, it can be hard for even the most unique streamers to stand out.
There are two ways to approach it.
First, you can look and see what titles are coming out in the next year. If any of those games appeal to you and are part of a franchise, stream one of the earlier games in the series. People love to hype themselves up for a new title by refreshing their memory on the older versions, so you'll be able to find a space that's not too crowded and start to build viewers.
Second, stream a game that isn't popular but has a strong cult following. There are plenty of titles out there that have a significant following without being as well-known. For instance, Dead by Daylight and the Final Fantasy series might be good places to start.
Either way, it's crucial that you do your research. A quick web search can give you an idea of what games attract viewers and how many streamers are in that market. However, at the end of the day, you have to choose a game that actually interests you — otherwise, you won't want to play it. It's all about that balance.
2. Do Your Research
If you want to break into Twitch streaming, you have to take it seriously. Sure, streaming is fun and can potentially be very lucrative, but it still takes work. Part of making it big is knowing what you're up against, which means doing your research.
After you've decided on a game, your next step is to take some time to look into the people who are already streaming it. Start with the big names and work your way down — you want to know your competition.
Not sure how to find this? Just go to Twitch and click the "browse" button in the top left corner. From there, enter your game title in the search bar, then sort by viewers (high to low) on the right side. We recommend watching a few of the most popular streamers and taking notes on what they do well.
It's also a great idea to sort by viewers in the other direction — from low to high — so that you can get a better idea of what not to do.
3. Make Your Stream Uniquely You
One of the best parts about Twitch is seeing the incredible diversity of streamers. There are people from all over the world who are excited about the same thing you are but expressing themselves in entirely unique ways.
So what do you bring to the table?
Building a brand on Twitch is just as, if not even more, important than the actual content. Viewers love the games, but they stay for your personality. Customizing your stream is essential for showing potential viewers who you are and what you bring to the table.
Start with a few basic tweaks like these:
Stream Overlays
Overlays include customized visual design tools that you can use to make your stream unique. These can look like frames, transition effects, icons, and images.
You'll use your stream overlay to read chats, look through your activity feed, see your viewer count, and more. While they're not required for streaming, overlays do add a lot to their enjoyment.
Panels
You can also customize your panel dimensions and aesthetic to fit your theme. These panels can give your viewers more information, such as how to subscribe, donate, and find your social media, as well as provide them with an FAQ.
Custom Alerts
Creating custom alerts may seem like a small thing, but it's that attention to detail that can really make a difference. Custom alerts can help you keep your viewers excited about upcoming events, say thank you for donations, and increase the connection between you and your audience.
Emotes
If you upgrade your account to either the Affiliate or Partner level, you also have the option to create custom emotes. Essentially, Twitch emotes are emojis you can use to react to your viewers on stream.
No matter what theme you go with, it's a good idea to make sure that you keep it uniform. Remember, you're creating a brand, so take the time to customize your stream. If you want to get viewers on Twitch, you've got to make yourself memorable.
4. Stream Often, Stream Regularly
You can't build a following if you don't give them something to follow. When you first start streaming, you'll need to put some serious time into it — even if you don't have anyone watching right away.
Aim to stream at least a few times a week, especially during the hours that people are more likely to be online. Once you start getting regular viewers, look for when they watch the most frequently and adjust your schedule accordingly. Through your Twitch Creator Dashboard, you can create a schedule that lets your viewers know when they can expect you to stream.
Streaming often and regularly can help to establish yourself in the community and keep your name out there. This way, more people can discover you and spread the word.
5. Take Advantage of Tech
Gaming isn't new, but the tech behind it is constantly changing. Take esports, for example. A few years ago, the concept wasn't very well-known.
Now, we have professional esports teams and people who play in them for a living! The evolution of tech continues to make streaming more exciting, so using all of the technology available can keep your stream cutting edge.
For instance, one cutting-edge piece of technology is the Powder PC app. This app automatically clips highlights so you can focus on playing your favorite games without worrying about clipping your streamable moments.
Plus, Powder Studio (which you can access through the Powder PC app) will automatically generate clips from multi-hour streaming sessions so that you can post your highlights for all to see. In just one click, you can adjust the formatting to create vertical or horizontal montages that are ready to be posted on Twitter, TikTok, YouTube Shorts, and more.
It's also important to invest in the highest quality streaming equipment you can afford for your Twitch account. While you don't always have to buy the most top-of-the-line gear, the tech you use does make a big difference.
A cheap headset, microphone, or graphics card will be noticeable to your viewers and can even cause issues in your stream. Upgrade as often as possible to keep your stream crisp, clear, and flowing.
6. Use Your Twitch Tags
Don't stream without utilizing your Twitch tags. You can add these tags to your stream to let people know what to expect from your content as they appear on the channel. This can also help potential viewers find you from directory pages and in the search function.
There are more than 350 different tags that you can use, allowing you to curate a community of people like you who will fall in love with your content.
There are three main categories of tags: custom stream tags, category tags, and automatic tags. Adding tags like FPS (first-person shooter) or English (if you're streaming in English) can help people find streams that fit what they're looking for.
7. Don't Focus Only on Twitch
Yes, you'll do your streaming on Twitch, but don't let your focus stop there. To truly build your brand, you need to utilize all of the social media available to you. This includes YouTube, TikTok, Instagram, and Twitter — if you can post on it, you should spend time expanding your presence there.
Twitch affiliates can even stream simultaneously on YouTube, giving you even more opportunities to grow your viewer base. It also gives you more ways to interact with your viewers, host giveaways, or just get your name out there.
Just remember that different platforms have different formatting requirements. Platforms like YouTube Shorts, TikTok, and Reels require vertical formatting, while Twitch, Discord, and Twitter work better with horizontal formatting.
That's why you can create clips in both vertical and horizontal formats with Powder PC. When you're going to maximize your social media presence, it's important to make the process as easy as possible. Don't spend hours on editing — just reformat with the click of a button with Powder.
8. Give Tournaments a Shot
If you're considering Twitch streaming, you're probably at least halfway decent at the games you're into. To grow your viewership, you may want to consider entering a gaming tournament. Not only are the prizes great, but you'll establish yourself as someone who can be trusted to give your viewers excellent advice and help them become better gamers.
Most major games, such as Fortnight, League of Legends, and Call of Duty, host their own tournaments. While they usually require an entry fee, if you do well enough, it could more than pay for itself in viewership.
9. Interact With Your Viewers
It's not enough to be great at gaming and learn how to get viewers on Twitch — you have to interact with them and keep them engaged! The more viewers you get, the harder it can be to give people personal attention.
As your stream grows, don't forget the loyal viewers who got you there. Show them respect, add a chatbox, and find other ways to stay in touch with them.
Even something as simple as giving viewers a shout-out while you're streaming can be enough to make them feel like they're part of the stream and keep them coming back for more.
Some Twitch streamers even create their own Discord channel so they can interact with their fans even more. While this does require a higher level of engagement, it's essential for making people feel like you're open and accessible to them.
And finally, don't forget about the rewards! Who doesn't love getting a reward or a "thank you" for doing something they already enjoy?
You can hand out channel points on Twitch that are collected when your viewers complete certain tasks. These points can be cashed in for different rewards (set by you) and customized to fit your theme.
The Bottom Line
Becoming a Twitch streamer requires hard work and dedication, just like any other career. You have to put time and effort into growing your presence, building your brand, and making choices that will help you succeed.
Getting more viewers on Twitch means taking advantage of the available tech, like Powder's AI-powered clipping software, to make your job even easier. Enjoy yourself, and game on!
--
💡If you're a streamer looking to save time and money clipping highlights and creating montages from your latest streams, get access to Powder for PC (Windows) now. One stream, ten highlights. In minutes, not hours. Powered by AI 🎮.
💡Learn more about Powder at our website or join our Discord, Twitter, Instagram, TikTok, and LinkedIn communities!