How To Stream on Twitch: The Gamer's Guide
Are you looking to get into streaming on Twitch? Click here to learn everything you'll need to become the next Twitch sensation.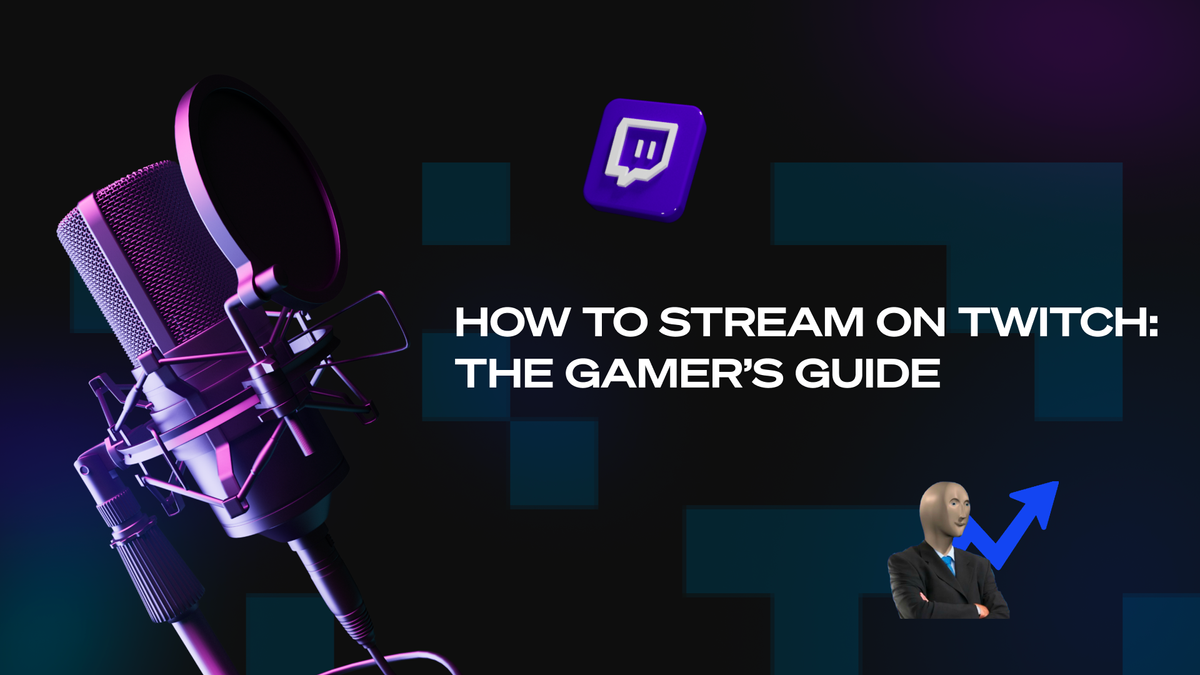 Twitch has absolutely changed the world of gaming forever. If you're a gamer, you likely have been on the platform many times to watch your favorite creators play video games, talk about the world, and loads of other stuff.
Go live, and you can build a fanbase and even make some money while playing your favorite games. The notion is pretty appealing, and many people are trying to break into streaming.
So today, we will walk you through how to stream on Twitch. There's a lot that you should know about what it takes and what you should do, so here's a quick guide that will give you all the basics to know before you get started.
How Does Twitch Work?
Let's start with the basics. Twitch is a live-streaming video platform owned by Amazon that allows viewers to watch, in real-time, their favorite creators do their thing.
Twitch lets creators share their screen with their stream, so most Twitch streamers are gamers who let the world watch their skills (or lack thereof).
Twitch broadcasts can contain all sorts of different types of content. Of course, there are many gamers, but you'll also find streams dedicated to music, food, or art. The most streamed category on Twitch (by a long shot) is "Just Chatting," with popular streamers like HasanAbi, xQc, and Kai Cenat.
For viewers, Twitch is completely free. You can browse the app or the site, "twitch.tv," search through the different streaming categories, and find a stream you're interested in. Click on their channel to watch their stream, and you can even go through their library of previous streams to watch them if you want.
You can also follow your favorite creators to get notifications when they go live. You can even get a mobile app on iOS and Android.
While watching a stream, whether on a desktop or a mobile device, you can leave comments in the chat thread.
This built-in feature allows you to connect with the streamer directly by asking questions, flaming them for bad plays, giving compliments, or whatever else you want to do (as long as you don't violate community guidelines).
Advertisements
If you're watching a stream for free, you'll be interrupted occasionally with a few ads. Usually, you'll get three minutes of ads every hour.
The ad revenue helps Twitch keep the platform up and running, and if the creator you're watching is a Twitch Partner or Affiliate, they'll get a percentage of the ad revenue (we'll talk more about Twitch Partners in a minute).
Subs and Gifted Subs
Part of what makes Twitch so great is that it allows viewers and fans to directly support their favorite creators by subscribing to their channels. Subs currently start at $4.99, and subscribing to a channel will benefit you as a fan of the stream.
For starters, you'll enjoy the creator's stream ad-free, which is a big plus. Subscribers also get to enjoy subscriber badges and unique emotes that can be used across all of Twitch. That way, subscribers can show off your channel to the other online communities they're in.
As a creator, you'll also be able to do other things for your subs to show that you appreciate them.
You can set up sub-only chats, dedicate days where you play your subs on stream, and more. You can do many things to make your subs feel connected to you and your content.
Gifted subs are an excellent way for your biggest fans to help grow your platform. Essentially, your subs can buy subs for people who aren't subbed to you yet (that's a lot of subs).
This means that you, as the creator, get a lot of money in new subs, and some of your followers who aren't subscribed to your channel will enjoy the benefits of being your sub free for a month.
At the end of the month, they can renew their sub to continue supporting you on their own. Maybe one day, they'll even gift subs of their own.
Bits
Your viewers can also support your channel in a smaller way through Bits. Bits are a virtual good that viewers can buy and then use to "Cheer" in chat to show that they support you.
They can cheer in big moments during the stream, and an emote will pop up on-screen with their name next to it.
There are animated Bit gem emotes, Cheermotes (popular emotes that have been animated), or custom Cheermotes (for Partners only).
As the streamer, every time somebody uses a bit in your stream, you'll get $0.01. It's not much, but those numbers add up quickly, so it's good to have people using lots of bits.
How Do You Stream on Twitch?
Now that we've talked about the basics of Twitch, let's get to the basics of how to start broadcasting.
Getting started may feel like a big jump. Luckily, with these six tips, you'll be well on your way to becoming a Twitch creator and making a name for yourself as an epic gamer.
Get a Good Streaming Setup
First, you'll need to ensure you have everything you'll need to stream. You'll want to get a quality microphone so that clean audio of your voice can be sent to your stream.
To get the best quality, you'll need to tailor your microphone to your space. If you're streaming from a quiet room, a condenser mic can help you sound crisp and clear. On the other hand, if you're streaming from a busier area, a dynamic mic can help eliminate background noise.
You'll need a headset so game audio doesn't get into your mic. When buying a headset, look for solid sound quality, noise isolation, comfort, and range of movement.
It's also a good idea to get a quality camera to stream video of yourself while you're killing noobs and clutching big moments. While you can still get a solid video from a 720p webcam, a camera that can shoot 1080p or 4K quality can look a little more professional. Just remember that with higher-quality video comes greater Wi-Fi bandwidth usage.
Speaking of Wi-Fi, you must also have a reliable internet connection with solid bandwidth and upload speed so you don't get interrupted during the stream by drops or lags. Ideally, your upload speed should be between three to ten megabytes per second. It's a good idea to use an ethernet connection to eliminate variables.
You'll also need a device to stream with. You can stream with game consoles like the PlayStation 5, Xbox One, or Xbox Series X.
But you'll need a capture card to do this, and you're pretty limited in your options with a console. As a result, streaming with a PC is the way to go, as it gives you many customization options for the stream.
While Microsoft and MacOS operating systems support streaming, visual capabilities tend to be more robust on a bona fide gaming computer.
Your gaming PC will need to have a CPU and a GPU that are capable of handling streaming. Your CPU will need to be able to run software coding (the process of encoding video and audio to stream), which takes a lot of processing power. And it's a good idea for your GPU to be able to run games at 60fps.
When you're starting, your viewers won't have the option to change video quality settings on your stream, so it's better if you provide a moderate quality so anybody can join in and have a decent experience.
If you're streaming FPS games, we recommend starting at 720p and 60fps with a bitrate of 3500 to get the best of both worlds. But if you're not into shooters, you could stream at 1080p and 30fps.
Streaming Software
Next, it's time to set up streaming software in addition to the Twitch app. These software are called "software encoding programs." They convert the audio and video to a digital format that you can stream.
The software will also allow you to set up what your stream looks like to your viewers and give you the ability to stream.
Pick the right software for you and download it to your PC. OBS (Open Broadcasting Software) is the most popular, and Streamlabs OBS is a bit easier to use for beginners. Twitch also has its own broadcasting software called Twitch Studio that you can use.
Decide What Content To Stream
Next, you need to decide what content to stream. This may seem like a pretty big decision, but the good news is that you don't have to pigeonhole yourself right now. There's plenty of time to experiment and find out which content you like streaming the most.
Nonetheless, it's good to start thinking about what content you want to focus on to solidify your brand as a streamer and give your fans some reliability.
Will you stream story games and take your followers through narrative journeys, or would you rather focus on your favorite FPS? Do you want to stream concerts of your original music, or do you want to watch TV shows with your followers?
You can also just chat and banter with your viewers and talk about whatever is on your mind. The sky's the limit!
Set Up Your Stream
So you've got your game queued up and ready to go. Now it's time to set up your stream and get going.
First, make sure that, in your streaming software, you've set the Service to "Twitch." This will ensure that your stream makes it to Twitch and doesn't get lost in the ether. Now, connect your Twitch account by putting your login information in your broadcasting app.
Another critical step is setting up your scene, customizing what your viewers will see when they click on your Twitch stream. Start by adding a Game Capture to your layout. Go to Sources, click the + button, and select Game Capture from the dropdown menu.
At this point, you can decide whether you want to capture the full-screen application or you just want to capture a specific window.
Now, you can repeat those steps to add other inputs to the stream: webcam footage, images, screen captures, and more. Many streamers love adding custom backgrounds, overlays, or logos to give their stream a bit of personal flare.
Once your layout is dialed in, you're ready to hit the "Start Streaming" button and broadcast gameplay of you absolutely crushing.
Becoming an Affiliate or Partner
Now, let's talk about Twitch Affiliates and Twitch Partners. When you start streaming for the first time, your options are pretty limited as a streamer.
You don't get a share of the ad revenue from ads on your channel, and you can't give your subs custom emotes and badges. You actually can't even have subs at all.
Twitch wants you to prove that you're a dedicated streamer before it gives you access to these features, so you'll have to complete some Achievements to become an Affiliate.
You'll need to stream for eight hours over 30 days, stream at least seven different days, have an average of three viewers per stream, and amass a total of 50 followers.
Once you do all of these things, you'll become an affiliate. Now people can subscribe to your channel, you'll get to create a custom emote for your viewers to use as bits, and you'll get a share of ad revenue. This is great for many casual streamers, but if you want to be a serious streamer, you'll need to complete more Achievements to become a Partner.
To become a Partner, you'll need to have streamed 25 hours in the past 30 days, streamed at least 12 different days, and have an average of 75 viewers per stream.
It's a big task, but the benefits are worth it. You'll get access to more emotes and badges, prioritized support, and many more options available to you. Plus, if you're a partner, you get to take home 50% of the subscription fees. If you have a large following, that can add up fast!
Build Your Audience
As you start streaming regularly, building your audience through other social media like Discord, TikTok, and YouTube is a good idea. You'll want to show your face and establish your brand to attract more viewers. The best way to do this is by sharing clips of your games or streams.
The best way to capture clips is with Powder, your destination for everything when it comes to sharing content and clips.
Powder utilizes incredible AI software to capture clips of your clutch moments in-game automatically. The AI is trained to detect when kills, victories, and other big things happen and then capture them automatically, saving a clip to your library.
Once you've finished your stream, you can upload the recording into our upcoming Powder for Creators software, and our AI can extract the best highlights from your video. Say goodbye to long hours sifting through footage! You can then compile the clips into a gameplay montage for YouTube or post short clips to TikTok, YouTube Shorts, or your Discord channel.
Powder also gives you hotkey options so you can manually capture clips too. So if something hilarious happens in chat or while you're just talking, you can clip that, too, no problem.
Posting more content in more places is a crucial part of becoming a content creator. So make sure you don't skip out on it.
Stream Away!
Now you know everything you need to know to start streaming like a pro. Hopefully, you're on your way to becoming the next Ninja, Pokimane, or xQc. So get out there, start gaming, and let the world see who you are.
And remember, Powder can help you capture clips, so make sure you stop by and check out the rest of our platform on your journey to become a bigger, better streamer.
--
💡If you're a streamer looking to save time and money extracting highlights and creating montages from your latest streams, get access to Powder for PC (Windows) now. One stream, ten highlights. In minutes, not hours. Powered by AI 🎮.
💡Learn more about Powder at our website or join our Discord, Twitter, Instagram, TikTok, and LinkedIn communities!