Twitch vs. YouTube for Streamers: Which Is Best?
Is it better to stream on Twitch or YouTube? Powder breaks down the advantages of both platforms and what you should expect.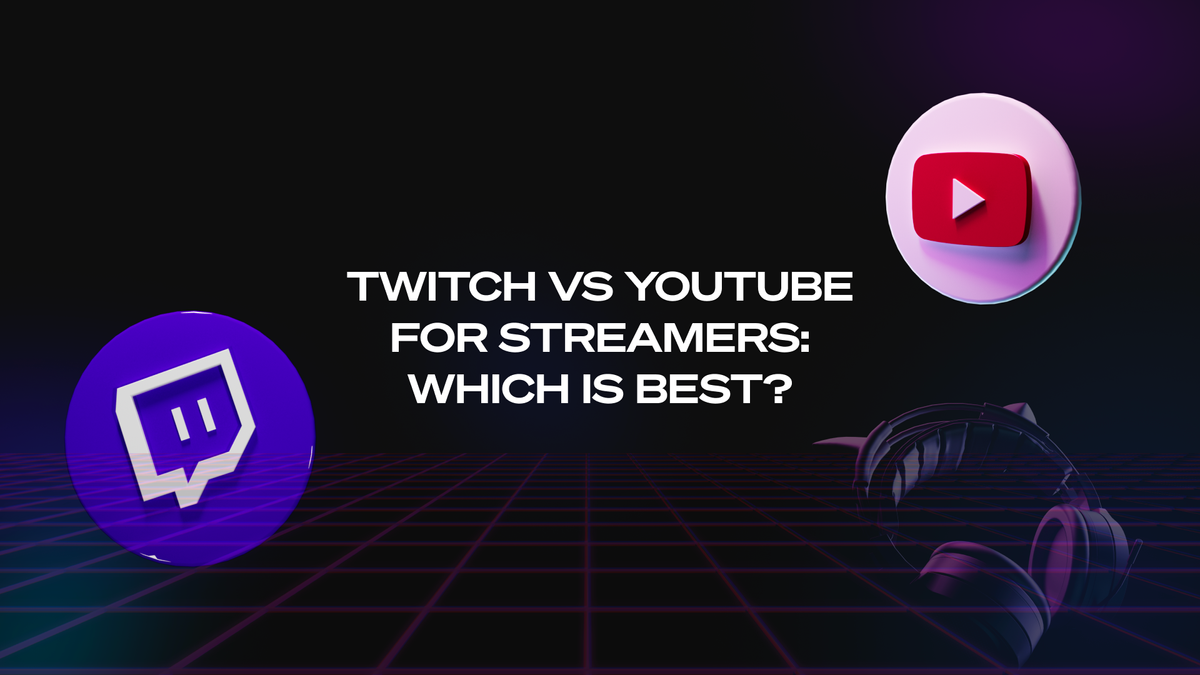 If we were to ask you what first popped into your mind when we said game streaming platform, you'd likely answer one of the following options — Twitch or YouTube.
If you're just getting started with streaming or looking to grow your reach, you're probably looking for your "best" option. Is it better to stream on Twitch or YouTube? While one isn't necessarily better than the other, each platform offers specific advantages and disadvantages.
We'll review them so that you can be confident in making your decision and reaching your goals.
What Is Twitch?
Let's start with Twitch, which was founded in 2011. Twitch has positioned itself as "the" online live-streaming video platform and has the chops to back that up. There's a reason that it remains such a popular place for streaming, especially for gamers!
What Can You Do On Twitch?
Twitch is known for being primarily a gaming platform, but that's not all it's about. While the vast majority of users do focus on their game streams, there are also plenty of Twitch streamers who focus on other things, like art, music, or cooking.
However, like most content creation channels, there are community guidelines to abide by. Anything that is dangerous, violent, "extreme," exploitive, hateful, or overly sexual is likely to be removed (but check all of the guidelines here to be sure).
How Do You Learn To Stream on Twitch?
One of the best features of Twitch is its Twitch 101 Creator Camp. Twitch considers literally anyone who creates content for their website to be a creator and goes out of their way to make sure they know they're valued.
Creator Camp is a way to help creators hone their craft, grow their communities, connect with their audience, and even learn to monetize their accounts.
What Are the Benefits and Monetization Opportunities on Twitch?
As you grow your account, Twitch continues to offer you more and more rewards and benefits — including monetization.
Those benefits are dependent on your streamer level, which would be one of the following:
Streamer: The streamer level is the first and most basic level available to anyone who streams. Even people new to streaming can access Chat, start accruing followers, and see their data analytics.
As you continue to stream and develop your channel, you'll work slowly but surely toward the next level (you can follow your progress on the achievements section of your dashboard). Once you reach that point, you'll get a link inviting you to move up to the Affiliate streaming level.
Affiliate: Once you've reached the Affiliate level, you have access to even more tools to help your channel continue to be as successful as possible. For example, instead of just accruing followers, you can offer them a subscription option so they can be notified when you post any new videos or streams.
To reach the Affiliate level, you must have at least 500 minutes of total broadcast content, at least seven separate broadcasts, at least three viewers, and at least 50 followers within the past 30 days. As an Affiliate, you can monetize your Bits and receive 14 days of VOD storage.
Partner: The final Twitch streaming level you can reach on the platform is the Partner level. Although this level is much harder to achieve than Affiliate, the benefits that come with it are pretty impressive.
To be a Twitch Partner, you'll need to have at least 75 viewers, 12 separate streams, and at least 25 hours of streaming content within the past 30 days. This level comes with several sweet benefits, such as 60 days of VOD storage, custom emotes, and a 50/50 subscription payout.
What Is YouTube?
Now, on to YouTube! More people are familiar with this platform because it is about so much more than just game streaming — although it is an excellent way to get your stream out there, too.
YouTube has been going strong since 2005, and it is estimated that a total of over 800 million videos are currently uploaded to the site.
What Can You Do On YouTube?
Because YouTube has been around so long, they're kind of the gold standard. There are plenty of options for showcasing your content on the site — from uploading edited videos to live streaming.
If you're new to the whole streaming thing, it may be worth trying out what YouTube calls their "Shorts." Shorts are exactly what they sound like — 60-second-or-less clips (think: TikTok) that you can create quickly and show off your brand.
Think about it this way — it's often far easier to suck someone in and get them interested in who you are and what you're about with a short video than with an hour-long hits reel.
However, to see more about what you can do on YouTube and for different tips and tricks for learning how to do it, check out their comprehensive "How things work" page.
What Are the Monetization Opportunities on YouTube?
Like Twitch, YouTube allows monetizing your channel, although the process is different. For example, you need to have had at least a thousand subscribers and 4,000 public "watch hours" over the previous 12 months or 10 million public "Shorts" views during the last 90 days in order to apply to be a Partner.
Once you've successfully applied, you can make money in various ways. You can do this through ad revenue and offering YouTube Premium (and getting a cut of the subscriber fee), as well as by selling Super Chat, Super Stickers, and merch.
Tthe site claims that they have paid more than 50 billion dollars to artists, creators, and media companies over the last three years — so the potential to monetize your channel and make a decent amount of money is definitely there.
The sky's the limit, and you're only bound by your imagination (and by the community guidelines).
So, Is It Better To Stream on Twitch or YouTube?
The question often comes down to streamers being told which of the two platforms is best, but we don't think it's that simple. It's not really about which one is better but about which of the platforms supports your needs and the way you plan to stream the most.
For example, are you just starting with video game streaming? There likely won't be a big difference between Twitch and YouTube, and you may even want to try both to see which one you like more.
YouTube likely has an edge if you already have a following and want to expand your channel into more content than just game streams. If you're interested in mainly doing live streams, you're probably better off sticking with Twitch.
It can sometimes help to make a pros and cons list and be realistic about your number of viewers and what you plan to offer them. At the same time, try to be optimistic while also being prepared to work hard.
Gaming may be fun, but if you want to build a following and make money with your streaming, it can't be all about your clutch moments and sick dubs — you must approach it like a job, too.
This means streaming consistently, finding ways to drive engagement, managing social media accounts, and generating content that your subscribers enjoy. Don't get us wrong — those clutch moments can help you out here, but it's also important not to rely on them alone.
And remember — if you're looking to start a streaming channel, it's all about building your brand.
You have to put some thought into who you are and what you want to say, pick the right name, create quality content, and how you're going to engage with your viewers. People can tell when you're the real deal.
Regardless of Where You Stream, Use Powder
Whether you choose Twitch or YouTube to showcase your gaming prowess, Powder PC can help make your life easier. When you're clutching a massive dub for your squad, the last thing you need to focus on is converting your gameplay into content.
Why worry about hitting the correct hotkey or manually clipping and editing your PC gameplay time when you can let AI do it for you?
You can use Powder, which combs through your hours-long stream videos to extract the best highlights. Using this new software, streamers can easily create montages from their streaming sessions and use vertical or horizontal formatting for ultimate sharability.
You can access these clips and highlights at any point, which means you can upload them and share them however you see fit.
Powder will clip highlights in any stream, for all of the 50,000+ games available on Steam, Epic, and EA. But it also trains specific AI models on more than 40 games, with more being added constantly, so you have extra precise clips from the games you play most. If you love to stream games like Fortnite, Apex Legends, or Halo Infinite, you'll love being able to stream them without having to put nearly as much thought into capturing your highlights yourself.
You just drag and drop your stream VOD into Powder, or copy and paste a Twitch link, and Powder will clip all the best moments for you, so you can grow faster and smarter without working harder.
The Bottom Line
Is it better to stream on Twitch or YouTube? While there isn't a black-and-white answer to that question, a good idea of how you plan to use your platform can help guide your decision.
If you're hoping to develop a diverse channel that focuses on other content besides video game streaming, you may want to use YouTube. However, if your goal is to stream and stream a lot, Twitch likely has an edge.
Indeed, they are both excellent platforms with a lot to offer — you can't go wrong either way.
--
💡If you're a streamer looking to save time and money extracting highlights and creating montages from your latest streams, get access to Powder for PC (Windows) now. One stream, ten highlights. In minutes, not hours. Powered by AI 🎮.
💡Learn more about Powder at our website or join our Discord, Twitter, Instagram, TikTok, and LinkedIn communities!