Powder Creator Spotlight: NinaKzz
Learn more about NinaKzz, a streamer living in Costa Rica who enjoys geeky and otaku games. She loves to entertain herself with her cat and shares many stories during her streams. 🚀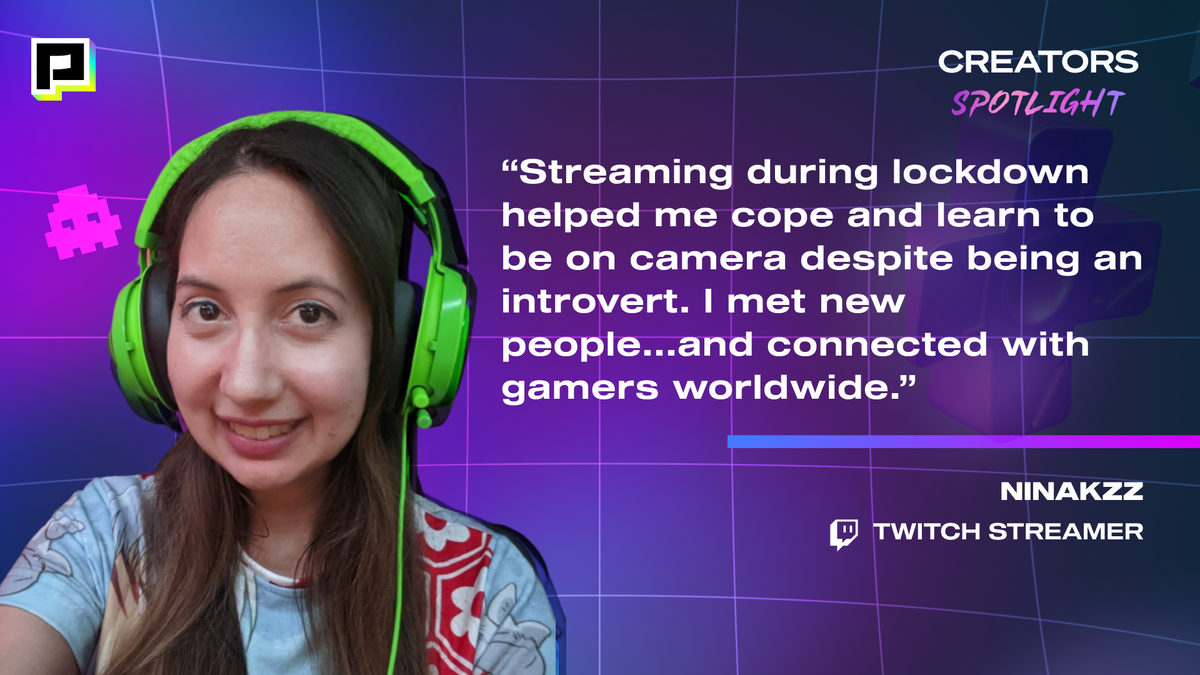 At Powder, we are dedicated to empowering streamers with AI tools that clip multi-hour streams into shareable highlights and montages with just a few clicks. We co-develop technology with streamer feedback and strive for a better gaming content creation ecosystem that we can all be proud of. In each edition of our Powder Pulse newsletter, we spotlight a creator in our community to showcase their unique talents and offer tips and tutorials for creating amazing content with Powder tools at your side.
Meet NinaKzz, a Costa Rican streamer who's not just playing the game but changing how it's played. With a knack for rhythm games like Muse Dash and a unique approach to community building, NinaKzz is the streamer you didn't know you needed to follow—until now.
Quick Info
🎮 Twitch: https://www.twitch.tv/ninakzz
▶️ Youtube Channel: @NinaKzz
📍 Location: Costa Rica
🕹️ Latest Game Obsession: Muse Dash
NinaKzz's Streaming Style
She has a strong inclination towards gaming genres that encompass adventure/action, multiplayer, and those related to music, such as rhythm games. Her enthusiasm for multiplayer games stems from her desire to engage with her viewers, but her primary focus lies in adventure action titles like Yakuza or Tomb Raider, as she's particularly drawn to immersive game narratives. Additionally, she consistently enjoys playing Muse Dash, finding rhythm games appealing because they allow her viewers to compare their high scores with hers.
NinaKzz shared with us her favorite piece of work she created using Powder, which is a TikTok video. She is proud of it because it showcases her skills as a content creator.
How Powder helps NinaKzz
"Using Powder has allowed me to work smarter, not harder. It's amazing how much time it saves me and the results are always top-notch!"
NinaKzz revealed that her motivation for using Powder lies in the knowledge that she's harnessing cutting-edge AI technology, coupled with the impressive responsiveness of the Powder team to user feedback. She has a valuable suggestion for newcomers venturing into Powder: record their streaming sessions and allow Powder to process them, enabling automatic clip and montage generation while they're occupied with other tasks or even asleep. This way, they can conveniently choose the clips and montages they prefer at a later time.
Advice for New Streamers
When asked what advice she would give to new streamers starting out, NinaKzz suggested building a relationship with their audience by talking to the camera. At first, it might be only one viewer, but talking with their eyes on the cam will automatically help with retaining their viewers. Creating clips easily with Powder will help them focus their time and make their content reach more people.
NinaKzz approaches personal growth and self-improvement in her streamer life by using monthly sprint retrospectives to find what was great and what needs improvement the following month. She makes sure to do at least one thing per month to achieve this.
Streamer Role Models
NinaKzz looks up to and draws inspiration from Pokimane and IamCristinini. She believes they influence her streaming choices by inspiring her to strive for high quality, community, and a fun and cozy environment to share with everyone.
Pokimane is a popular social media personality who streams primarily League of Legends and Fortnite, and has over 2.3 million followers on Twitch. IamCristinini, on the other hand, is a noted Spanish-language streamer known for her variety streams and engaging personality.
NinaKzz's Game Streaming Experience
NinaKzz shares insights on how gaming has positively impacted her life, particularly during the lockdown period. She mentions that she started streaming during this time, which helped her cope with the situation. Furthermore, it allowed her to learn how to deal with being behind the camera as an introvert. She has met a lot of new people through gaming, built relationships with her community, and connected with other gamers worldwide.
NinaKzz also reveals some pre-game rituals that help her get in the gaming zone. Before starting the stream, she fills up her water bottle and informs her community via Discord and Instagram. She also showers and puts on perfume, even if no one will be physically present in the stream. These rituals help her to focus and get prepared for the stream.
When asked about the future of gaming, NinaKzz expresses excitement for upcoming releases such as Just Dance and Prince of Persia. In addition, she is excited about the future of VR games and its potential effects on gaming. She envisions that gaming will continue to be a significant part of her life since it helps her de-stress and connect with people.
So, if you're looking for a streamer who knows how to balance quality, community, and fun, make sure to give NinaKzz a follow on her channels. And remember, whether you're a viewer or a fellow streamer, in NinaKzz's world, you're family.
—
💡If you're a streamer looking to save time and money extracting highlights and creating montages from your latest streams, get access to Powder for PC (Windows) now. Powered by AI 🎮.
💡Learn more about Powder at our website or join our Discord,Twitter,Instagram, TikTok, and LinkedIn communities!