Powder Creator Spotlight: STREETOWNER
Meet STREETOWNER, a content creator who loves to play first-person shooter (FPS) games, and uses Powder to clip his streams and stitch together montages.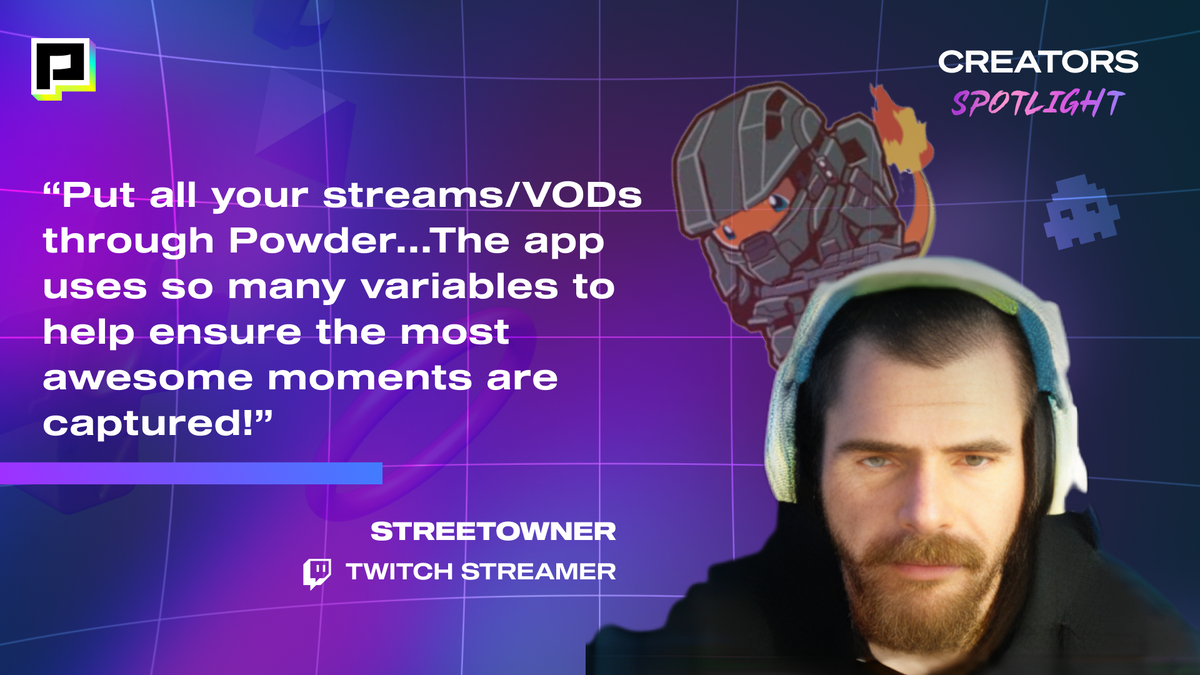 At Powder, we are dedicated to empowering streamers with AI tools that clip multi-hour streams into shareable highlights and montages with just a few clicks. We co-develop technology with streamer feedback and strive for a better gaming content creation ecosystem that we can all be proud of. In each edition of our Powder Pulse newsletter, we spotlight a creator in our community to showcase their unique talents and offer tips and tutorials for creating amazing content with Powder tools at your side.
Today, we're shining a light on STREETOWNER, a content creator who loves to play first-person shooter (FPS) games, and uses Powder to clip his streams and stitch together montages.

Quick Info

‌🎮 Twitch/Kick: STREETOWNER
▶️ YouTube: @STREET0WNER
🌍 Location: USA‌
🔥 Latest Game Obsession: Halo Infinite
Meet STREETOWNER
STREETOWNER is a United States based content creator. He mainly gravitates towards first-person shooter (FPS) games, but also enjoys trying out other genres. His most recent streamed categories are Apex Legends, Escape from Tarkov, Halo Infinite and Phasmophobia. There's something about the thrill of competition and the satisfaction of taking down the enemy that keeps him hooked on FPS games. His most recent obsession is Halo Infinite, the 2021 first-person shooter game developed by 343 Industries and published by Xbox Game Studios. In addition to gaming, STREETOWNER is also a fan of cars and bikes, and frequently flaunts his red/black Mustang on his socials.
STREETOWNER's Streaming Style
As a streamer, STREETOWNER approaches personal growth and self-improvement with open arms. He embodies a growth mindset, saying: "If we aren't learning, then we aren't living." He always strives to improve his content creation and quality of streaming. High-quality streams are important to him because he knows that his streams can help his viewers forget any real-life issues going on. During his streams, they can laugh and really enjoy themselves.
He's experienced it firsthand. Gaming has been an escape for him during difficult times, allowing him to find enjoyment and laughter amidst challenges life has brought his way.
That open-minded and open-hearted approach has allowed STREETOWNER to meet new friends and form lasting connections with other creators and with the community that tunes in for his streams.
Looking towards the future, STREETOWNER sees gaming as a continued part of his life journey. He has even introduced his kids to gaming, giving him another activity to bond over with his family. As long as gaming brings joy and excitement, he plans to keep it a part of his life.
Using Powder for Content Creation

When asked how he uses Powder in his content creation process, STREETOWNER shares that he uses it to help extract clips from his streams and make montages. He finds that the app helps cut down on the time it takes to produce content, and loves the endless possibilities that come with the content that is captured by or produced from Powder.
His favorite piece of work that he's created with Powder is this video on TikTok–it was his first-ever montage that he created with the tool's AI.
It saved him time by helping him stitch together several clips into a montage with transitions that was ready to share– all he had to do was add the music, and that was it!
Tips for Using Powder
For any newcomers trying out Powder, STREETOWNER recommends putting all your streams/VODS through the app. The app will find moments that might have been missed during the stream, since you're not always able to focus on the content to clip while streaming.
—

💡If you're a streamer looking to save time and money extracting highlights and creating montages from your latest streams, get access to Powder for PC (Windows) now. Powered by AI 🎮.

💡Learn more about Powder at our website or join our Discord,Twitter,Instagram, TikTok, and LinkedIn communities!