Powder Creators Spotlight: Sp3d
Learn more about Sp3d, what he loves about streaming, and his top tips and tricks to thrive as a gaming content creator.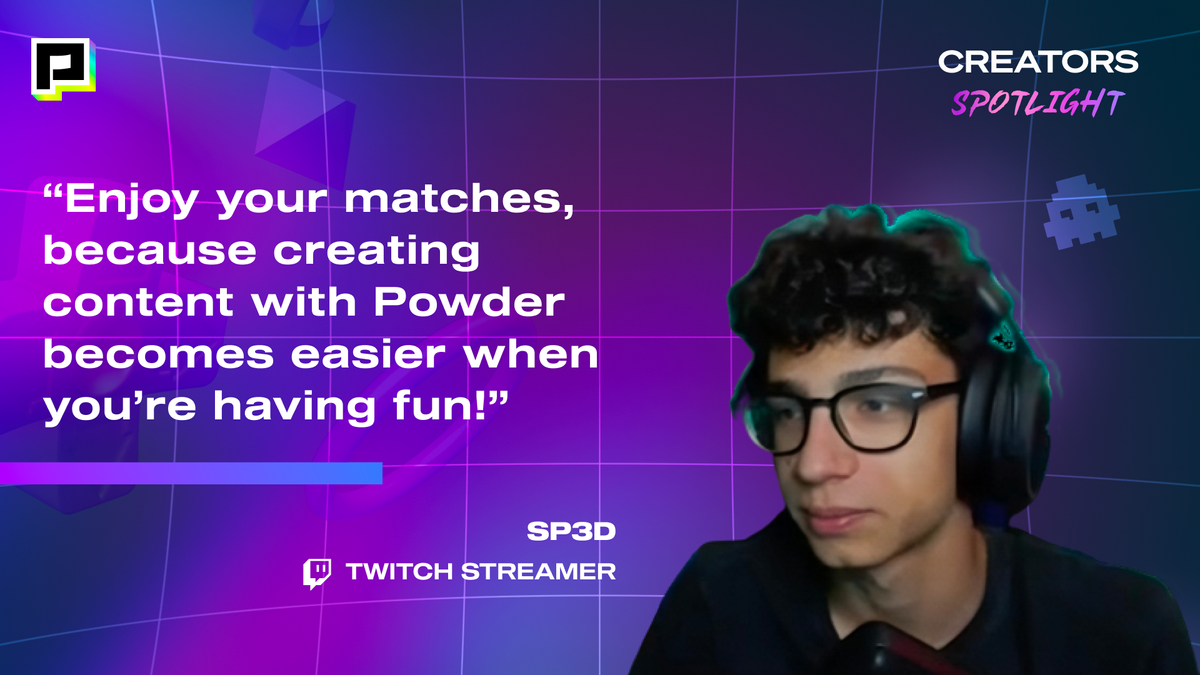 At Powder, we work to empower streamers with AI-powered tools, co-develop technology with their feedback, and strive for a better gaming content creation ecosystem of which we can all be proud. Powder AI transforms multi-hour streams into highlights and montages in a few clicks.
In each edition of our Powder Pulse newsletter, we spotlight a creator in our community to showcase what makes them shine, and offer tips and tutorials for how to create amazing content with Powder tools at your side.
This week, we're shining the spotlight on Sp3d, who is ambitious in his goal to bring a change to the gaming scene in Italy. He aims to make it big and inspire a future generation of Italian content creators to be bold and fearless in the pursuit of their passions.
Quick Info:
🎮 Twitch Channel: twitch.tv/sp3d_tv
📍 Location: Italy
🔥 Current Game Obsession: Rainbow Six Siege
🔗 Socials:  https://linktr.ee/Sp3d
🌟 Fun Fact: Despite being a shy person, Pietro is breaking out of his shell to connect with his viewers and share his love for gaming.
Getting to Know Sp3d
Meet Pietro, also known as Sp3d. He began his creator journey on Twitch in February 2019. Although he faced several "highs and lows" initially, he's now committed to streaming daily. Once a shy individual, Sp3d found his passion in the world of video games and streaming. Even with a slow start, he persisted, driven by dedication and consistency. Four years into his journey, he's achieved the title of Twitch Affiliate—a notable reflection of his commitment.Sp3d radiates positivity and aims to uplift viewers, especially on their challenging days. Despite starting off reserved and hesitant to reveal his raw side, he was determined and streamed for the sheer joy of it. Over time, he understood the importance of being consistent and truly loving what he does.
For those unfamiliar, becoming a Twitch Affiliate is the platform's system that allows streamers to unlock monetization. To earn from your channel, one must achieve Affiliate or Partner status by meeting specific criteria. This achievement underscores Sp3d's dedication as a streamer and the stellar reputation he's established—an accomplishment he deeply cherishes. Looking ahead, he's eager to hit more milestones, determined to expand in content creation, and share the nuances of life in Italy.
His style:
Sp3d's streaming approach is highly interactive, allowing viewers to initiate in-stream sound alerts and join in polls. This level of engagement creates an environment that fosters active participation and a sense of community among viewers who tune in to watch him.
He holds great admiration for several Italian streamers, especially Giorgio "POW3R" Calandrelli. Pow3r, once a Fortnite pro and now a prominent Warzone and Fortnite player, stands as one of Italy's most significant esports figure.  Recognized in Forbes 30 Under 30 in 2019, he clinched the European Twitch Rivals title in 2020. Sp3d sees Pow3r's success in the Italian streaming world as a testament to the vast potential in the industry, reminding him that determination, authenticity, and a strong connection with the audience can lead to  monumental achievements.
Sp3d streams games like Valorant and Phasmophobia, aiming to engage viewers while creating exciting montages from his Valorant gameplay clips. Despite initial caution due to Italy's skepticism about streamers, he embraced full time streaming with growing excitement and progress. Now, he strives to lead Italian streaming, showcasing how to overcome doubts and succeed. In a country where content creation isn't always favored, Sp3d wants to change perceptions and serve as a role model for aspiring streamers, proving that commitment can defeat self-doubt. His positivity and energy inspire others, especially in Italy, to pursue streaming dreams with courage. By staying genuine, consistent, and passionate, he aims to grow as a content creator and reshape Italy's gaming view. Sp3d believes he can make a positive impact, inspiring others to follow their gaming passion as a viable career choice.

💡Tips and insights:
Sp3d's tips to streamers like himself is:
"Enjoy your matches, because creating content with Powder becomes easier when you're having fun!"
And if there's one principle he lives by, it's the essence of authenticity:
"Always be yourself."
How Powder helps Sp3d:
Sp3d has been using Powder to generate montages with  his Valorant clips. The platform has been an incredibly useful tool for editing and compiling all of  his best moments into one cohesive video. With the intuitive interface of Powder Studio, Sp3d feels it is the one thing that has helped him the most.

Sp3d has a special reason for turning to Powder. He's on a mission to create captivating montages from his Valorant gameplay clips. Why? Because he wants to showcase his skills and techniques in the game that he has honed over the years. Through these montages, he aims to not only entertain his audience but also inspire them to improve their own gaming abilities.

Sp3d has a heartfelt desire to share his passion for gaming with a wider audience and create a community of like-minded individuals who can discuss and appreciate the intricacies of gaming. Sp3d's streaming represents his dedication and commitment to the gaming world and his desire to make a positive impact on the gaming community.

Connect with Sp3d:
Sp3d's favorite piece of work is his Twitch channel, https://www.twitch.tv/sp3d_tv, where he takes pride in connecting with other individuals who share his passion for video games.
So be sure to follow Sp3d on Twitch, YouTube, TikTok, Instagram and Twitter.
---
💡 If you're a streamer looking to save time and money extracting highlights and creating montages from your latest streams, get Powder for PC (Windows) now. Powered by AI 🚀.
💡Learn more about Powder at our website or join our Discord,Twitter,Instagram, TikTok, and LinkedIn communities!