Powder Creators Spotlight: ObiWonCanolii
Learn more about streamer ObiWonCanolii, a Dad, Husband, and a US Army Vet who loves to play MilSim games.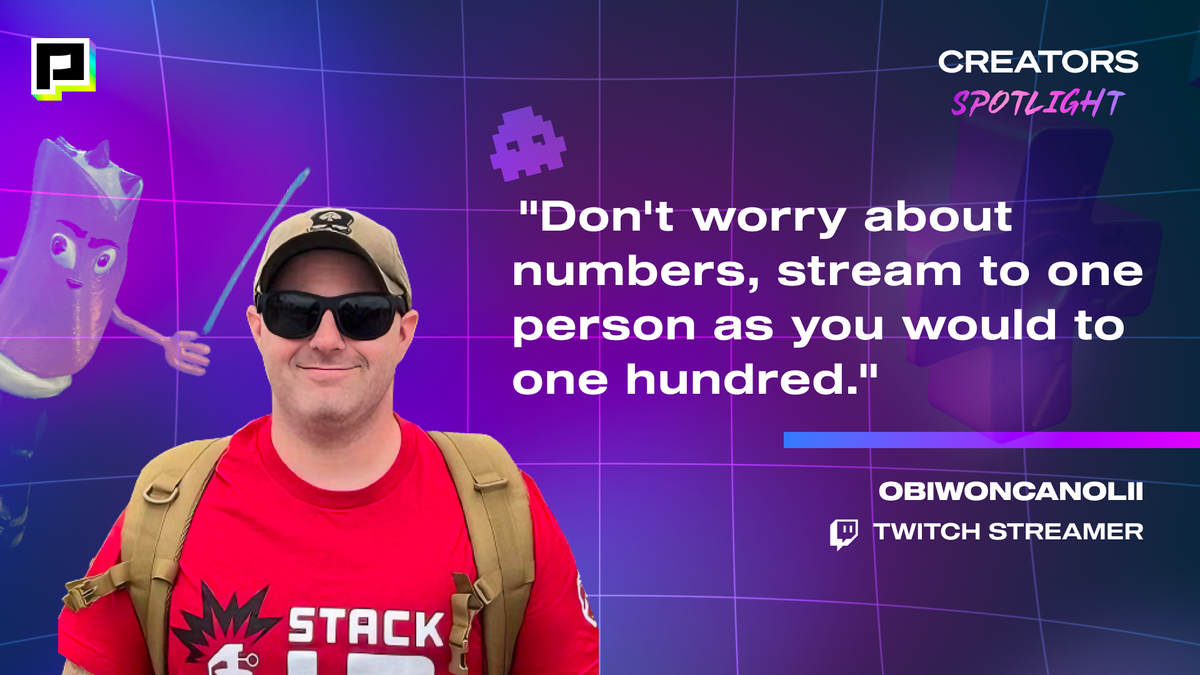 At Powder, we are dedicated to empowering streamers with AI tools that transform multi-hour streams into highlights and montages with just a few clicks. We co-develop technology with streamer feedback and strive for a better gaming content creation ecosystem that we can all be proud of. In each edition of our Powder Pulse newsletter, we spotlight a creator in our community to showcase their unique talents and offer tips and tutorials for creating amazing content with Powder tools at your side.
This week's featured streamer isn't just a source of excitement, but also a wellspring of inspiration. Allow us to introduce ObiWonCanolii, a streamer who remarkably wears multiple hats with finesse – a dedicated gamer, a loving dad, and a US Army Veteran. If you're intrigued by the idea of bridging real-life military experience with the virtual arena of gaming, keep on reading.
Quick Info
🌍 Location: Massachusetts, USA
🔥 Latest Game Obsession: Escape from Tarkov
💡 Fun Fact: ObiWonCanolii was called to help out as a military liaison and scene extra for the movie Patriot's Day with Mark Wahlberg, as he was remarkably one of the military police officers at the Boston Marathon bombing in 2013.
💚 KICK: ObiWonCanolii
💜 Twitch: ObiWonCanoli
Meet ObiWonCanolii
ObiWonCanolii, whose real name is Joe, is a Dad, Husband, and a US Army Vet from Massachusetts. He loves to play realistic/MilSim games with his friends and can often be found playing Hell Let Loose or experimenting with the latest battle royales. ObiWonCanolii is passionate about charity work, especially for the military and veterans. He started streaming in 2018 as a way to cope with mental health issues from the military and has since built a strong community of friends from around the world.
ObiWonCanolii's Streaming Style
ObiWonCanolii describes his streaming style as authentic. He emphasizes that he's not a competitive gamer but enjoys the laughs and silliness that come with gaming. He values getting to know his community and building personal connections with his viewers. He talks about how his streaming journey has allowed him to meet many great people. His streaming journey has been influenced by streamers he admires; for instance, he mentions Reaperofhugs42, whom he had the pleasure of meeting at TwitchCon 2019, as the first person who took him in and showed him the ropes of streaming.
Recently, ObiWonCanolii made the switch to Kick, which is a new live streaming platform that launched in late 2022. It promises fewer ads, less censorship, and better incentives for streamers than competitors. Kick has gained attention for its high signup rates and partnerships with popular streamers. ObiWonCanolii thanks metalsavior for helping him get savvy with the new platform and also for introducing him to great people. He is now proudly affiliated with team Kloud there and expresses deep gratitude for everyone who has been part of his journey.
Using Powder for Content Creation
ObiWonCanolii has been using Powder for a few years now, and it's his main source of capturing clips for content creation. He appreciates the AI's ability to recognize excitement through his mic and finds that the clipping tool helps enhance his ability to get all the moments he wants to share. He uses the clips across various platforms with ease.
When generating his favorite highlights with Powder, ObiWonCanolii selects his goofiest clips and gets creative with them. He combines AI-generated clips and manual moments to create content he truly stands by. One of ObiWonCanolii's proudest moments as a content creator was during his Warzone days when he was able to capture perfect clips for his content using Powder.
Tips for New Streamers:
For newcomers to Powder, ObiWonCanolii recommends exploring and trying different things to ensure that AI captures epic moments. He advises finding the trigger points that work best for you.
For new streamers, ObiWonCanolii's advice is simple:
"Don't worry about numbers, stream to one person as you would to one hundred."
Make sure to give ObiWonCanolii a follow on Twitch, KICK, TikTok, Instagram, YouTube, Facebook and Twitter.
—
💡If you're a streamer looking to save time and money extracting highlights and creating montages from your latest streams, get access to Powder for PC (Windows) now. Powered by AI 🎮.
💡Learn more about Powder at our website or join our Discord,Twitter,Instagram, TikTok, and LinkedIn communities!