Powder Creators Spotlight: TubButter
This week, our lens is on the "dad gamer" who beautifully shares how gaming has given him friendships he never thought he'd have.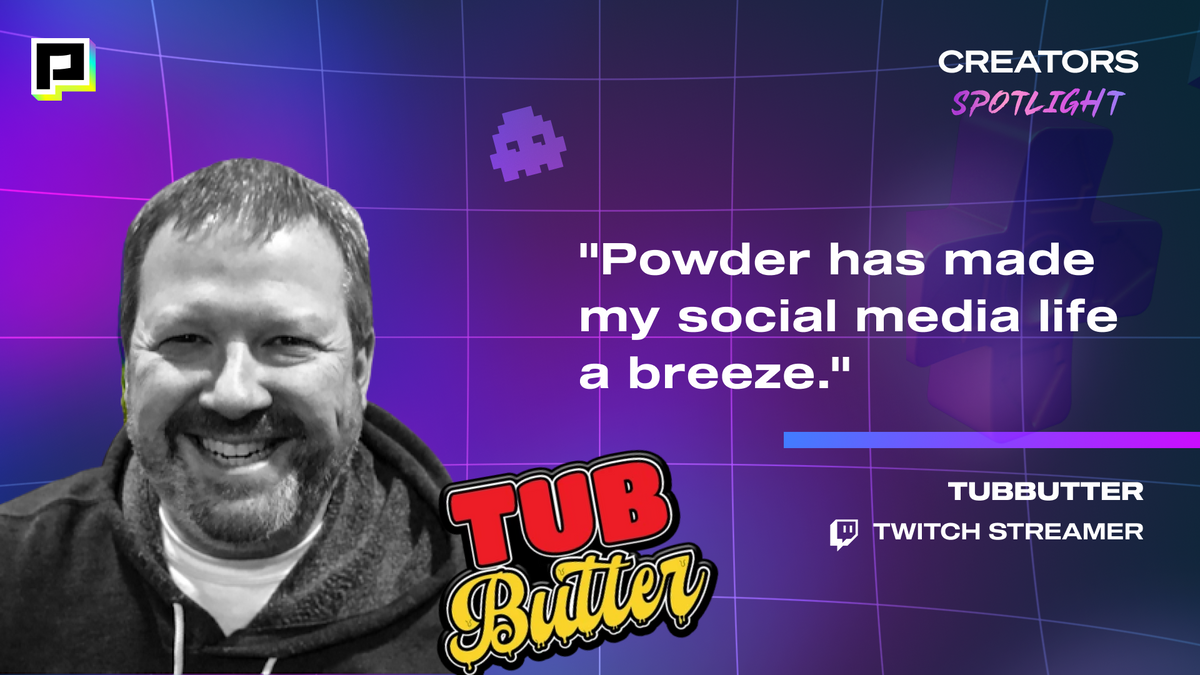 At Powder, we are dedicated to empowering streamers with AI tools that clip multi-hour streams into shareable highlights and montages with just a few clicks. We co-develop technology with streamer feedback and strive for a better gaming content creation ecosystem that we can all be proud of. In each edition of our Powder Pulse newsletter, we spotlight a creator in our community to showcase their unique talents and offer tips and tutorials for creating amazing content with Powder tools at your side.
This week, our lens is on the multifaceted world of TubButter, a self-proclaimed "dad gamer" from Atlanta who beautifully juxtaposes the intensity of gaming battles with the depth of real-life conversations. TubButter shares how gaming has given him friendships he never thought he'd have and marvels at the fact that some of his best friends across the world are the ones he has never met face to face.
Quick Info
🎮 Twitch Channel: https://www.twitch.tv/tubbutter
🟢 Kick Channel: https://kick.com/tubbutter
🌍 Location: Atlanta, Georgia, USA
🔥 Latest Game Obsession: MW2 and Fortnite
💡 Fun Fact: TubButter is a huge Marvel geek and also loves to build Legos
🔗 Social Links: TubButter's Linktree

Meet TubButter

TubButter isn't your everyday streamer. While viewers are engrossed in watching him navigate brutal in-game conflicts, they might suddenly find themselves immersed in a profound discussion about premature babies, highlighting his empathic nature and the safe space he's cultivated. His streams transform from mere gameplay into an inviting living room where conversations stretch from the frivolous to the deeply personal. With over 68K followers on Twitch, TubButter is a streamer you ought to know.
The gaming genres he finds himself gravitating towards the most are first person shooters. COD, Apex and Fortnite are his top games because gets to play those with his friends. His favorites? Dead Space and the Titanfall 2 campaign.
He is excited about the future of gaming and the way that storytelling is evolving. According to him, it speaks volumes that we get to experience stories and characters that get us emotionally involved. He cannot wait for Spider-Man 2 and is still holding out hope for Titanfall 3. "Bring back BT!" he adds.
TubButter's Streaming Style

While TubButter is a capable gamer, he sees his streaming as an extended family room where people gather not just to watch, but to share and listen. His advice to any new streamer who's just starting out: "Be yourself and never underestimate what your content may do for someone you will never meet," which exemplifies his commitment to genuine interactions over superficial metrics.

Gaming is the backdrop, but for him, the essence of what he does and what brings him back stream after stream lies in these rich human interactions. He looks up to the streamer JGOD, whose story and impact on the community is a motivation for TubButter to thrive in this industry. Gaming has been TubButter's life since Atari 2600, when his grandparents introduced him to Super Breakout. He has always thought of gaming as an experience to share–and he's grateful that he now gets to play with supportive gamers he's met along the way.
Using Powder for Content Creation

Being a content creator on Twitch and YouTube, TubButter finds inspiration in Powder's ease of use, which allows him more time to do what he enjoys. TubButter has harnessed the power of Powder to streamline his content creation, lauding the platform for its user-friendliness and efficiency.

"Powder has made my social media life a breeze."

When it comes to sharing his favorite moments, he often turns to his YouTube Shorts, which are easily crafted thanks to Powder. Through Powder, he can post content that his community loves with just a few clicks.

Tips for New Streamers:


TubButter's advice for newcomers to Powder is to embrace authenticity, even if it means showing your in-game failures. "Being able to laugh at yourself is a great quality and not often seen in the industry," he advises.

When asked about his pre-game rituals, he says, "Always run a warm up game. Don't ever go into a stream cold. That way, if there are any issues, you have it figured out before you are live."

Make sure to give TubButter a follow on his socials through his Linktree.

—

💡If you're a streamer looking to save time and money extracting highlights and creating montages from your latest streams, get access to Powder for PC (Windows) now. Powered by AI 🎮.

💡Learn more about Powder at our website or join our Discord,Twitter,Instagram, TikTok, and LinkedIn communities!